Accurate colour is an area of photography that's actually often overlooked by digital photographers and yet it's something that's usually remarkably easy to get - especially using a few common tools. In this little tutorial we'll look at correcting slight colour casts using Adobe Camera RAW, but firstly a quick bit on why colour casts actually happen.
The human visual system is nothing short of astounding in how it adapts to different conditions. You can look at a white sheet of paper in natural daylight, under tungsten light, candle light and masses of other very different light sources and your brain still sees the sheet as white (at least you can still tell it's white). Unfortunately digital cameras aren't quite as smart, so we need to tell them what conditions they're shooting under if they're to record colour accurately. Every light source we see has a temperature expressed in Kelvin (just for the curious geeks amounts you, the Kelvin scale is exactly the same as degrees celsius except it starts at absolute zero or -273.15 degrees C). When we change the White Balance of a digital camera we're essentially telling it the temperature of the light we're shooting in, and once the camera knows the temperature of the light it can balance its three colour channels (red, green and blue) accordingly so whites appear natural. That being the case, the first thing we can do to avoid colour casts is ensure the White Balance is set as accurately as possible. Most modern digital cameras give excellent results using Auto White Balance, but selecting Shade/Cloud or Sunny/Daylight in the appropriate conditions may at times give better results than Auto.
Even with the White Balance in the camera set as accurately as possible there may still be slight colour casts, and if you use Adobe Camera RAW there's a beautifully simple way of correcting them. The key to spotting a potential problem is the Histogram, and if you'd like to know a little more about how this wonderful and extremely valuable tool works then a tutorial can be found here:
http://focusonflight.net/forum/viewtopic.php?f=16&t=11
So… Correcting colour casts. I'm using a RAW file here in these examples but you can also use ACR to edit JPEGS in the same way - simply open Adobe Bridge, right click the image you want to edit and select 'Open In Camera RAW'. One very important thing to bear in mind however is there's a huge amount more information in RAW than JPEG, and as such any significant corrections made on a JPEG probably won't look anywhere near as natural as they would do on a RAW file.
Colour correction is generally easiest done on a correctly exposed image, so on opening the photo in ACR make any exposure/contrast adjustments first. Also add saturation first, as this will make any colour casts more pronounced and therefore easier to spot. We've opened and corrected this PIA 777 but it's looking ever so slightly red - we can also see this in the circled (or ellipsoid in this case) peak to the right side of the histogram. The Red channel is peaking a little way closer to the highlight end of the histogram than the white Luminosity peak, indicating a slight imbalance.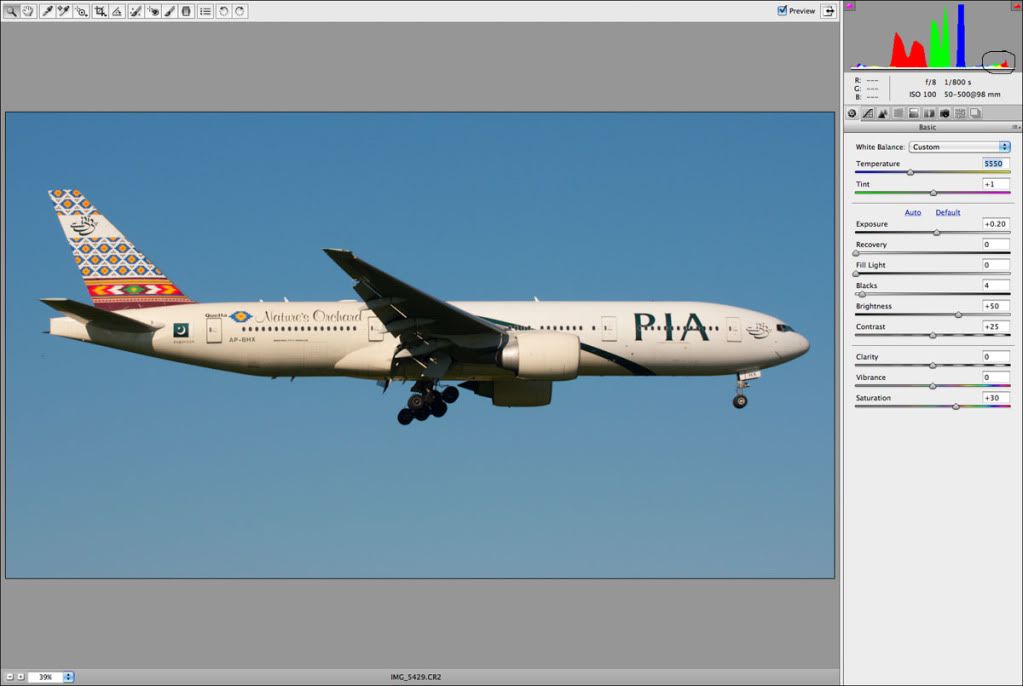 This is the most basic type of colour cast and correcting it is astoundingly simple, all we do is lower the Temperature until that red peak is in line with the white peak.
You can see that once that tiny adjustment is made the whites now look more pure, and it's also had the added pleasant effect of making the blue in the sky a little more bold. The little red triangle in the top right of the histogram in the first example was showing the Red channel was slightly blown out, while this isn't necessarily a problem images tend to be happier if nothing's blown out! We can see that after correction the triangle's returned to black, indicating none of the channels are being pushed too far. (Don't worry about the purple triangle on the left, we're not using that one for the purposes of colour correction).
Now we'll look at a slightly more extreme example - in fact it's an extremely extreme example! This is a problem that's almost always encountered when shooting under artificial light (and the ramp here at Funchal's a great example of it). This situation can actually be worked around when you take the image but I'll explain that once we've looked at correcting it.
So, with your camera set to Auto White Balance you've set your tripod up, waited for the aircraft to come to a standstill, focussed, taken the shot and the image that pops up on your screen looks something like this:
The exposure's fine but the colour cast simply looks awful. Even though your eyes saw it in a similar way at the time, your brain (being smart) still tells you it's white, but when we see the same thing in a photo we just see a red plane that should be white. However bad the cast may look, it's perfectly fixable.
If we open the image in ACR we can see the Red channel's wildly imbalanced as it's sitting way, way ahead of the Luminosity peak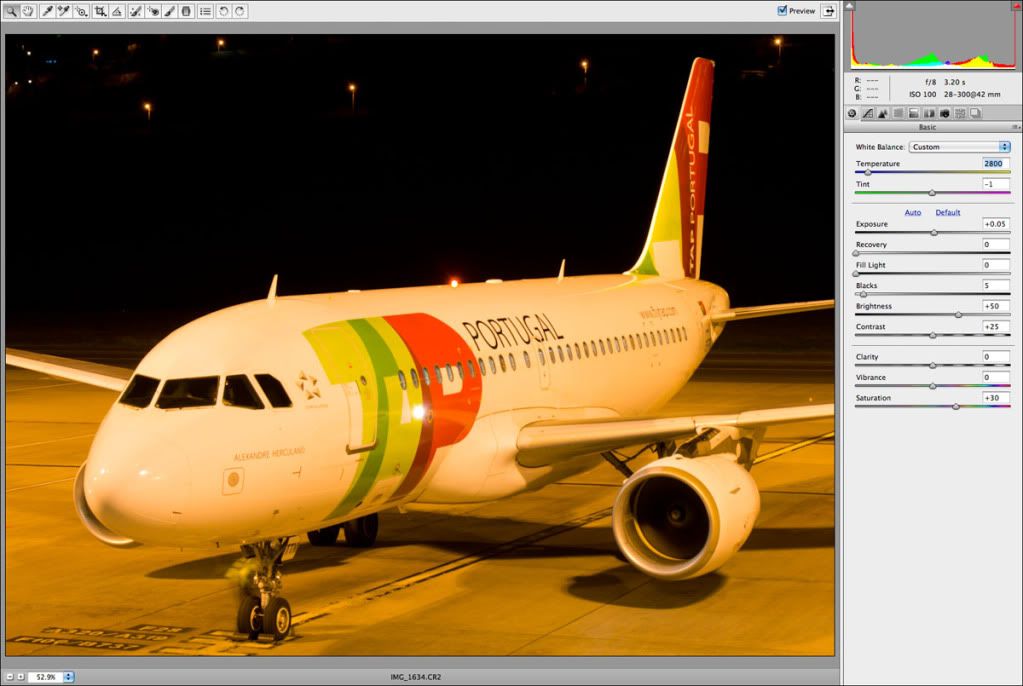 To correct this we simply do the same as the previous example and take the Temperature down. In this case it's so extreme we've had to take it right down to its very minimum of 2000K, but it's fixed the problem perfectly. The whites now appear pure and natural.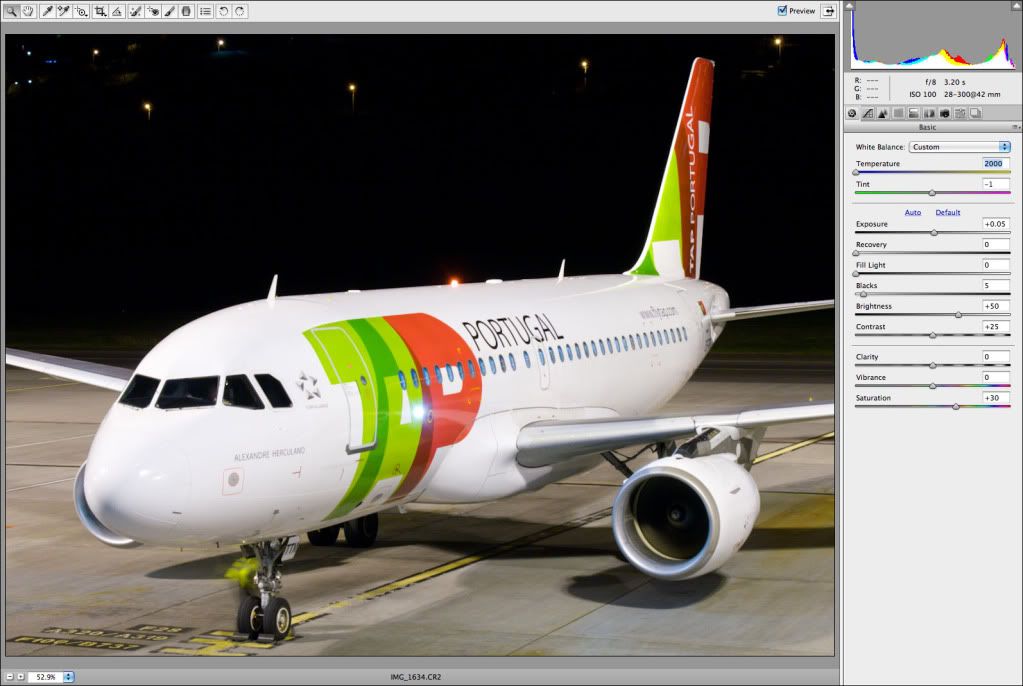 This may actually seem quite unnatural to some people because strictly speaking this isn't how it appeared to you at the time, but it's very important to remember the way our brains see the world and the way a digital camera records it are very, very different. Our visual system tells us a huge amount of information about the things we view without us even realising it, but we need to take a slightly different and more technical approach with digital photography if we're to get the best out of it. Correcting colour casts that occur under artificial light such as this is very definitely technically the correct thing to do as far as the camera's concerned, and personally I think it gives a much more pleasing image as well (although naturally, personal opinion comes in here as well!)
Going back to avoiding the problem in the first place when you're shooting, Custom White Balance is invaluable for shooting in difficult light (like this TAP Airbus at Funchal). If you're unfamiliar with this feature then I'd very much recommend getting to know it better because it can help enormously in more difficult circumstances. Essentially first of all you take a test frame of what you want to shoot, then in the menu somewhere there'll be an option to set up Custom White Balance. Basically you tell the camera to use the frame you've just taken as a reference, then set it to Custom White Balance. The next frame you shoot will be using the colour temperature of what the camera actually sees to balance the colours and it should appear similarly to the corrected TAP Airbus (which was actually shot using Custom so it left the camera already corrected, I just used it as an example here).
As with most techniques in editing, it's quite important to consider your subject carefully and decide whether a certain technique may not work or whether you might have to use it slightly differently. For example this image was shot on a gorgeous December day back in 2008, but to start with it's a little on the red side so needs a bit of correction.
Here we've used the technique of bringing the red peak back to the white one, but the image now looks quite cold and harsh.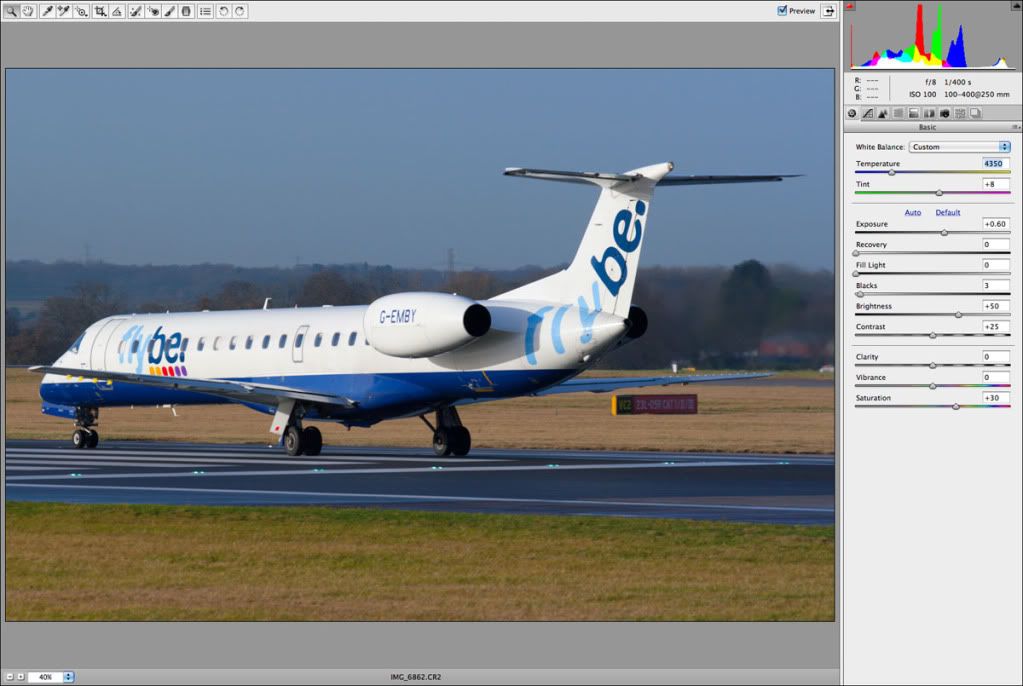 Using this technique but not being what could be described as 'technically correct' with it works nicely. An image taken in the depths of winter when the temperature was probably hovering around zero now looks natural and balanced, but without having a perceivable colour cast.
Another point with this technique is sometimes you'll need to use the Tint control as well. Occasionally you'll find that when you bring the Red peak back down another colour will get in the way. We can see the colours in this image aren't quite right and that's reflected in the histogram.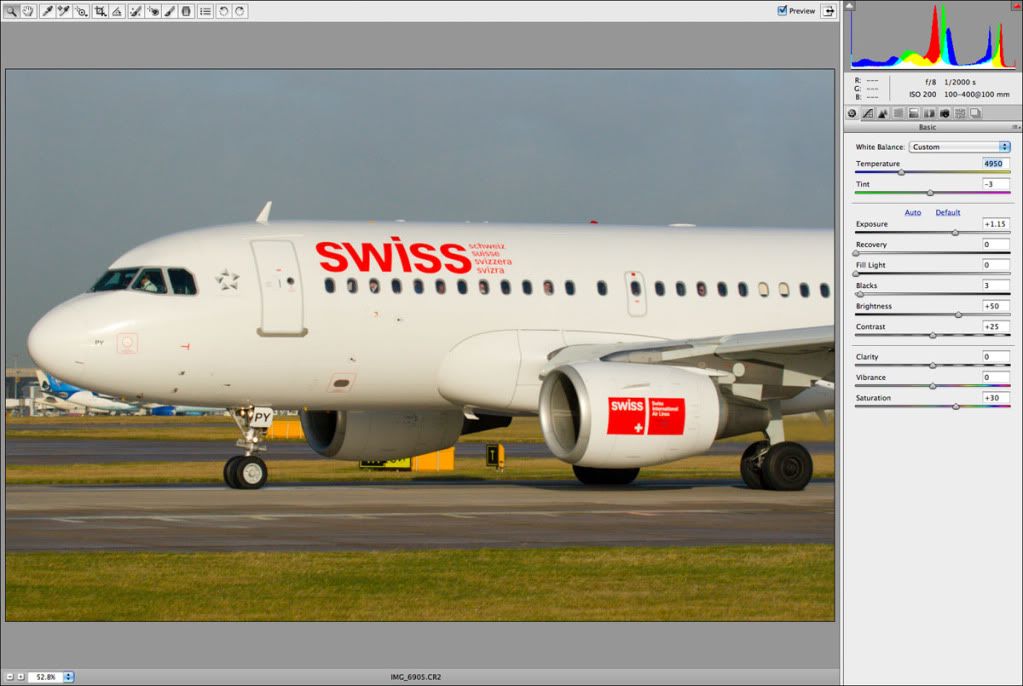 To correct this we bring the Temperature down, but as we do so a cheeky Green peak appears. Again we see this in the image, as it now has an ever so slight green tint.
Cheeky green peaks are easily fixed by simply nudging the Tint away from green and towards magenta (and conversely if a magenta peak appears, shift it further towards green). Sometimes it isn't possible to make all colour peaks perfectly match and here we see there's still a slight bit of blue there, but that's fine. There's now no real colour cast and the whites appear clean and natural.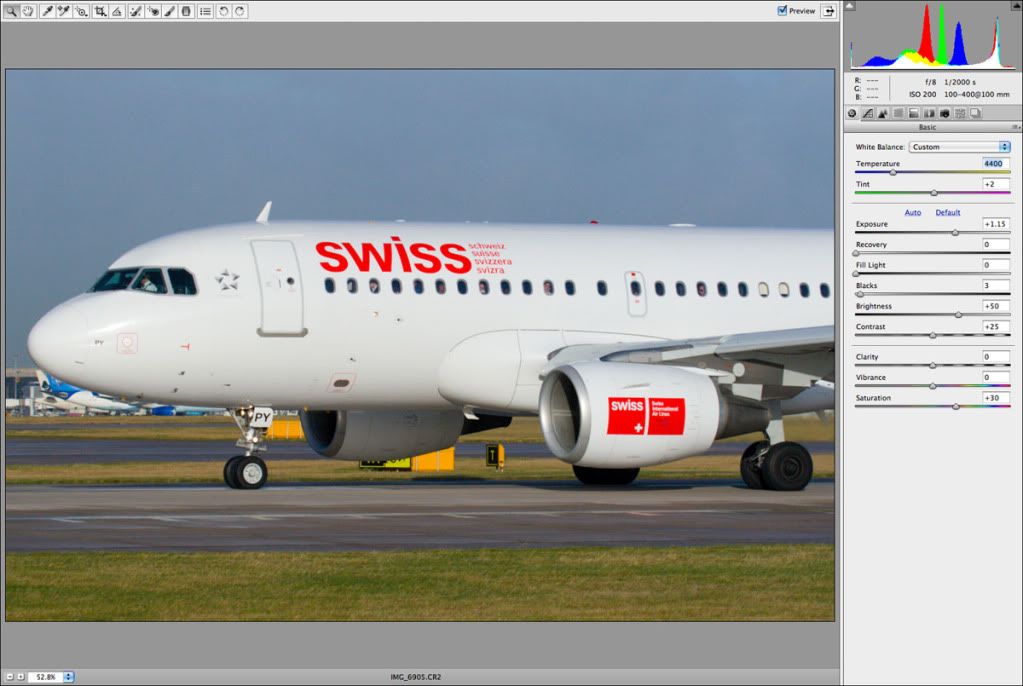 It's also worth noting that if you shoot things other than planes this technique can also be applied in for general photography, as the principles it relies on apply universally to whatever you shoot. Here are two random examples where the same colour correction technique was applied and it worked flawlessly.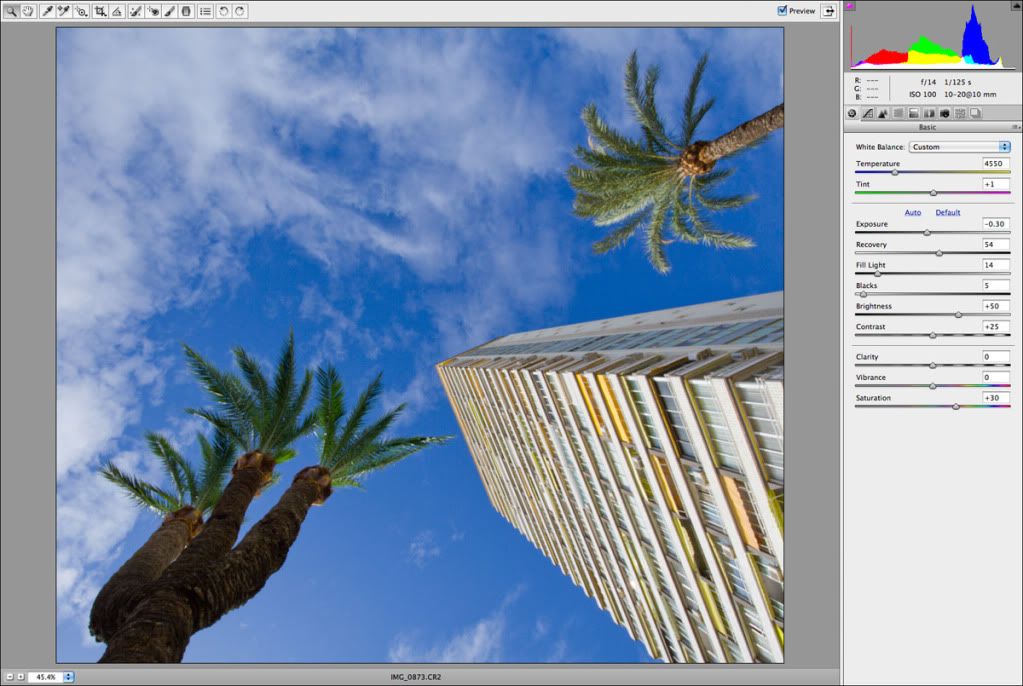 So essentially that's how it's possible to use the RGB Histogram and Adobe Camera RAW to correct colour casts. Just to finish, here are a few summed-up points to consider:
-RAW has much more scope for adjustment, so if you're shooting in challenging conditions and may need to make significant corrections in post-processing then RAW will help!
-The techniques described here won't work for absolutely everything but they will work for most things. Don't blindly make adjustments without considering your subject, the conditions you're shooting in and how you want to put them across to people viewing your work. A badly or ill-used correction technique can make an image worse than it was to start with!
-Spend time learning about White Balance, what it is and how it affects your images. Also familiarise yourself with the Custom White Balance function, it's invaluable in challenging light.
Hopefully this tutorial has been of some use. As always, please feel free to ask any questions relating to it directly in this thread and I'll respond as soon as possible.